NSS
The National Service Scheme is an Indian Government Sponsored public service programme conducted by the Ministry of Youth Affairs and Sports of the Government of India. NSS was formally launched on 24th September 1969, the birth centenary year of the father of the Nation Mahatma Gandhi. Therefore, 24th September is celebrated as the Foundation Day of NSS with appropriate progammes & activities.
Aims of NSS:
Development of personality, leadership and confident of students through community service. The programme aims to install the idea of social welfare in students and to provide service to society without bias. NSS volunteers work to ensure that everyone who is needy gets living and lead a life of dignity.
Objectives of NSS:
Understand the community in which they work.

Understand themselves in relation to their community.

Identify the needs and problems of the community and involve them in problem solving process.

Develop among themselves a sense of social and civic responsibility.

Develop competence required for group living and sharing of responsibilities.

Utilize their knowledge in funding practical solution to individual and community problems.

Gain skills in mobilizing community participation.

Acquire leadership qualities and democratic culture.

Develop capacity to meet emergencies and natural disaster.

Practice national integration and social harmony.
Motto of NSS:
The motto of the National Service Scheme is "Not Me But You", reflects the essence of democratic living and upholds the need for self-less service.
NSS SYMBOL:
NSS symbol is based on the 'Rath 'wheel of the Konark Sun Temple situated in Orissa. The Red & Blue colors contained in the symbol motivate the NSS volunteers to be active & energetic for the nation building social activities.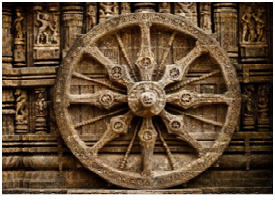 NSS Symbol Wheel of Konark Sun Temple
Activities undertaken by NSS:
Environment Enrichment and Conservation.

Health, Family Welfare and Nutrition Programme.

Programmes aimed at creating awareness for improvement of the status of women.

Social Service Programmes.

Production orientation programmes.

Education and recreations.

Relief and rehabilitation work in natural calamities.

Sustainable development with emphasis on wasteland development and watershed management.
In Mariani College NSS unit was launched in ………
---
NSS Unit, Mariani College
NSS Programme Officer: Ms. Kritika Agarwal( Assistant Prof.)
Dept. of Accountancy
Mariani College
NSS Report 2021-2022 NSS news coverage: Here
NSS unit Report for the session 2016-2021 Achievement & Award of NSS: Here
NSS Activities Conducted since August 2022
Activities: